Presentations of new ranges, lectures and workshops on current market topics as well as many personal discussions directly on site – that was the Soennecken in-house exhibition 2023, which took place on March 29th/ 30th in the premises of Soennecken eG in Overath . Live for the first time since 2019 – numerous visitors from the member companies and 35 exhibitors really appreciated the physical experience as a real benefit.
The headquarters in Overath was the scene of the two-day Soennecken in-house exhibition, where 35 exhibitors presented their new products and services. The program also included various informative lectures and workshops as well as several guided tours through the logistics centre. From here, the members and their customers are supplied with goods from various product ranges, from office supplies and technology to catering and hygiene. During guided tours, the trade fair visitors also had the opportunity to get to know the highly automated logistics centre with a storage area of 19,000 square meters and to take a look behind the processes after an order. More than 22,000 products are stored here, and up to 10,000 packages leave the distribution centre every day.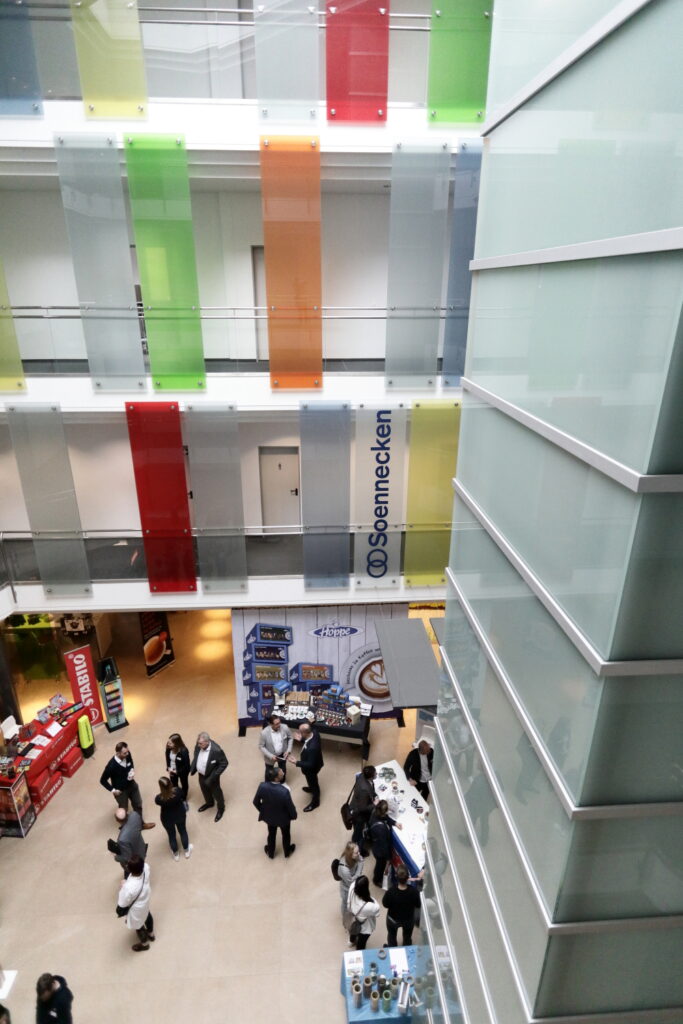 Workshops on topics that raise interest
The workshops offered the participants the opportunity to obtain comprehensive information on current topics and also to discuss them. For example, there were questions about how one's own business can be made more sustainable, how sales can be optimized by controlling prices and what opportunities arise from changes in the procurement market. Always in focus: the needs of the customers.
Personal contacts for an improved cooperation
With this in-house exhibition, Soennecken created a profitable connection between all points of the supply chain for everyone involved. Soennecken's concept as a purchasing cooperative and wholesaler could be experienced with new products that are tailored to specific customer requirements and broaden the horizon of office supplies even further, through to professional logistics and environmentally friendly shipping. "Our in-house exhibition showed once again that nothing beats a direct conversation," summed up Jens Melzer, head of the LogServe business unit, after the two days. "The best ideas simply come from working together, and the live experience of our logistics center opened up completely new perspectives – for even more cooperation, for more efficiency, for more customer satisfaction."
The participants felt the same way, praising not only the organization but also the variety of topics and discussion partners. "We focused on networking," said Andreas David and Nadine Ohl from Dössel & Rademacher OHG in Hamburg. "The direct exchange with suppliers was particularly important to us. And the Soennecken in-house exhibition offered us the perfect environment for this. We'll definitely be back." Supplier representatives were able to exchange ideas with dealers in an almost informal and relaxed atmosphere and discuss and decide on very specific projects. The in-house exhibition visitors celebrated this success at a harmonious evening event.