EveryonePrint and the Spanish distributor, M. Hermida Informática, have joined forces to make EveryonePrint Hybrid Cloud Platform (HCP) available in Spain and Portugal.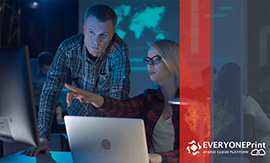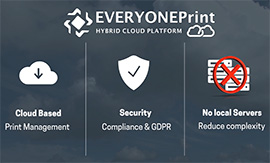 EveryonePrint HCP is an all-in-one print infrastructure solution designed for organisations looking to reduce the IT burden and cost-effectively realise all of the benefits of a Software as a Service (SaaS) solution for print infrastructure.
With this partnership, M. Hermida Informática can offer a solution that can reduce the cost and complexity associated with a traditional print environment. By eliminating print servers, Windows server licenses and the requirement to run clients on workstations, customers will benefit from significantly lower printing costs.
HCP is a fully scalable subscription-based solution meaning customers from SMEs to global enterprises simply pay for the licenses they need. Ease of use is in-built. The solution enables customers to seamlessly migrate an existing on-premise print environment to a cloud-based service, enabling the entire printing infrastructure to be deployed and controlled from a single web-based interface and offers users a true single driver solution, making it possible for everyone to print to all devices using the same generic print driver.
"This partnership enables us to broaden our offering and provide a flexible, secure and efficient solution, enabling customers to eliminate print-related servers and benefit from the agility and innovation of cloud technology."

Manuel Hermida, Managing Director at M. Hermida Informática
"Migrating the print infrastructure to the cloud delivers tangible business benefits. It frees up the requirement for major upfront capital expenditure, provides the ability to scale up or down according to individual needs and budget, as well as delivering best-in-class security. We are delighted to work with M. Hermida Informática to bring cloud benefits to businesses in Spain and Portugal."

Thomas Lastrup, VP of Sales at EveryonePrint